Rogue (The Ike Schwarz Series) by Frederick Ramsay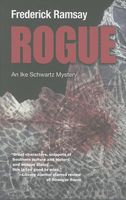 (Adult Mystery)
"Rogue" by Frederick Ramsay is a delightful mystery addition to my long list of favorites! While I wish I hadn't started so late into the series, it is a case of better late than never.
This 6th installment of the Ike Schwarz series centers around Ruth, Ike's fiancee. At the beginning of the book, Ruth is the subject of an apparent murder attempt, a hit and run in Ike's car. Ike pulls out all the stops to find the person responsible for the attempt while at the same time running for re-election of sheriff, stopping a hay theft ring, and staying strong for Ruth's recovery.
There are so many things to love about this book. First, I would have to say that the two main characters, Charlie and Ike, are so delightful. Funny and warm, with just the right mixture of gruffness and sarcasm. Their sense of humor was my favorite part of the book. I felt as if I were right there with them trading witty banter (although they are much wittier than me!). The plot was another really enjoyable part of this book. I have read hundreds of mysteries and it is often so difficult to find something new. However, this book was relevant and cutting edge.. Perhaps because I am a teacher, I found the motive of 'murder because of textbook adoption' to be hilarious, disturbing and chilling all at the same time.
My only complaint would be with the last chapter. Everything fit together just a little too neatly for my tastes. Other than that, it is truly the best mystery I've read in a long time.
This may be my first visit with Ike, but it won't be my last. I hope this is just the start to a very long relationship.